Plastic injection and plastic innovation
Caliplast has been providing expertise in the transformation of plastics for almost 40 years.
In 2000, we began a profound change: the search for excellence by implementing a new approach to innovation.
Today, we are at the forefront of new technologies in plastic injection, automation and new materials.
What is injection molding ?
Plastic injection, also called injection molding or thermoplastic injection, allows the manufacture of identical parts in small, medium or large series in the plastic material of your choice.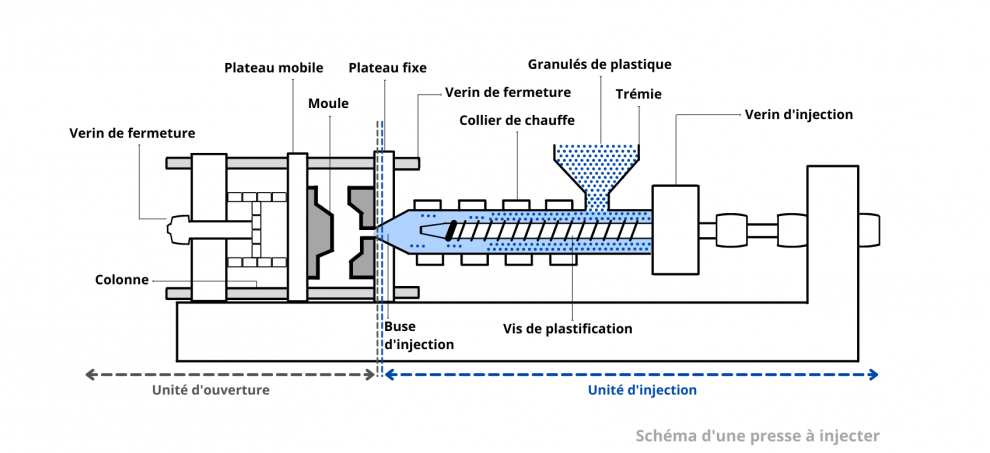 The design and manufacture of the mold upstream make it possible to guarantee the production of visual and functional quality parts.
The manufactured parts are then used in many fields: electronics, sports, medical, building, IT, aeronautics, automotive, etc.
Injection molding consists of injecting the thermoplastic material in the form of granules, which are then softened using heat. In liquid form, the material can then be injected under high pressure into a mold that has been made upstream and take its imprint. Subsequently the plastic will cool and therefore solidify, we can then eject the part which has taken its final shape.
The stages of plastic injectio
1ST STEP: TOOL DESIGN / PLASTIC INJECTION MOLD
The mold gives shape to the plastic and therefore to the final part, the mold must be manufactured to allow easy ejection of the parts.
2ND STEP: INSTALLING THE MOLD
The mold will be mounted on the appropriate injection press.
For the plastic part to take shape, each part of the mold will be pressed against each other so that the granules are introduced into a heated plasticizing screw to melt the material. The rotating screw combined with the temperature will allow the plastic to melt.
3RD STEP: INJECT THE MATERIAL
The softened plastic will then be injected under high pressure.
Injection under pressure guarantees that the mold is completely filled with the material.
4TH STEP: COOL THE MATERIAL
Once the material is injected into the mould, the part must be cooled in order to eject it from the mould.
5TH STEP: EJECT THE PIECE
The part is therefore ejected from the mould, the cycle can then begin again.
Why choose plastic injection
Plastic injection can be an alternative to many more expensive materials and techniques (metal machining, 3D printing or plastic machining) in terms of their components, their weight or the manufacturing time.
Plastic injection is an ideal way to make precision parts and obtain products of all sizes, solid and of good quality. In addition, this process is ecological because the material can be recycled and reused several times without significant loss of its technical characteristics.